Have A Question?
If you would like to ask a question before you schedule a consultation, we would love to help. Please enter your question below.
Schedule a Consultation
Our partnership begins with a consultation. Together, we'll imagine what's possible and design the unique treatment plan that's right for you.
Center for Aesthetics Idaho Falls
Catherine Durboraw MD offers a wide range of treatment options tailored to your concerns. From your first encounter with Center for Aesthetics Idaho Falls, you will recognize the unique care which we deliver. Your CFA Experience will begin with an extensive consultation with Dr. Durboraw, during which time a customized game plan and approach to your concerns will be created.
Center for Aesthetics Idaho Falls uses only state of the art technology to achieve the results you are looking for. You will not find any "jack of all trades" lasers here. And superior results only start with the technology, the real differentiation is with technique and experience when performing the treatments. Dr. Durboraw and CFA Beauty are national leaders in many of the services which are performed here. Our extensive experience with our technology gives you assurance of safety and the best treatment outcome possible.
What's Next?
We are happy to answer any questions you may have about our services before scheduling your consultation. Just fill out the simple form above!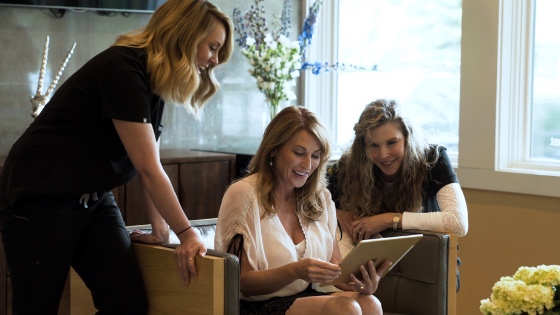 Regenerative Medicine in Idaho Falls
The future of what we do to control and reverse aging lies in the field of Regenerative Medicine. At Center for Aesthetics Idaho Falls, Dr. Durboraw has already been practicing Regenerative Medicine for several years.
What is Regenerative Medicine, you ask? It is the harnessing of our own body's ability to repair itself to renew our tissues and skin. It is a new kind of aesthetic care – natural, less invasive, more innovative, with real results.
Dr. Durboraw is an expert in the field of Regenerative and Aesthetic Medicine, developing her own protocols to combine technologies to give you results that are far superior than any single tool can achieve. Get on the path to true non-surgical rejuvenation with Dr. Durboraw and CFA Beauty Idaho Falls. Fill out the form above to start the conversation.

"I have had a number of appointments with CFA and I am thrilled with the results! The entire staff is always extremely professional and kind! Dr. Durborow does amazing work!" – Angie J.
"Loved all the ladies that work there! Super kind and very friendly! Knowledgeable about the procedures. All around great experience." – Kimber J.
"The treatments are of a very high quality. Everyone is friendly and easy going." – Faith W.
"Compassionate staff and physician. Very informative with regard to condition and procedure. Office above excellent." – Diana L.
"The staff at CFA are wonderful! The experience was comforting and professional, caring and knowledgeable. Would highly recommend them for your need. Thank you all at CFA." – Sandra F.


CFA is a new kind of aesthetic care – more innovative, less invasive, with real results. Where today's miracle tools meet our exclusive protocols to pursue your definition of beauty, never anyone else's.