The Vivace Experience® is The Difference
We all desire to age gracefully, with our natural beauty still intact. Inevitably, fine lines and wrinkles tend to set in as we get older. However, now there is a simple and minimally-invasive treatment available to address those signs of aging and have you out to dinner that same night. 
The Vivace Experience® is a revolutionary approach that combines microneedling technology with radiofrequency energy for superior, natural-looking results. And Center for Aesthetics in Idaho Falls is proud to offer this to our community.
What is Vivace Radiofrequency Microneedling?
You may already be familiar with microneedling as a non-invasive, non-surgical treatment that can help improve skin quality and address cosmetic concerns. Vivace is FDA-cleared and best-in-class, utilizing microneedling with radiofrequency (RF) energy to stimulate a healing process that boosts your natural collagen and elastin production. 
In addition to treating a wide range of skin concerns, Vivace microneedling is safe and effective on the face and body. It can even address hard-to-treat stretch marks or rejuvenate delicate skin of the hands, neck, and décolleté, providing dramatic results. This procedure is safe and effective, with virtually no pain, downtime, or significant skin peeling.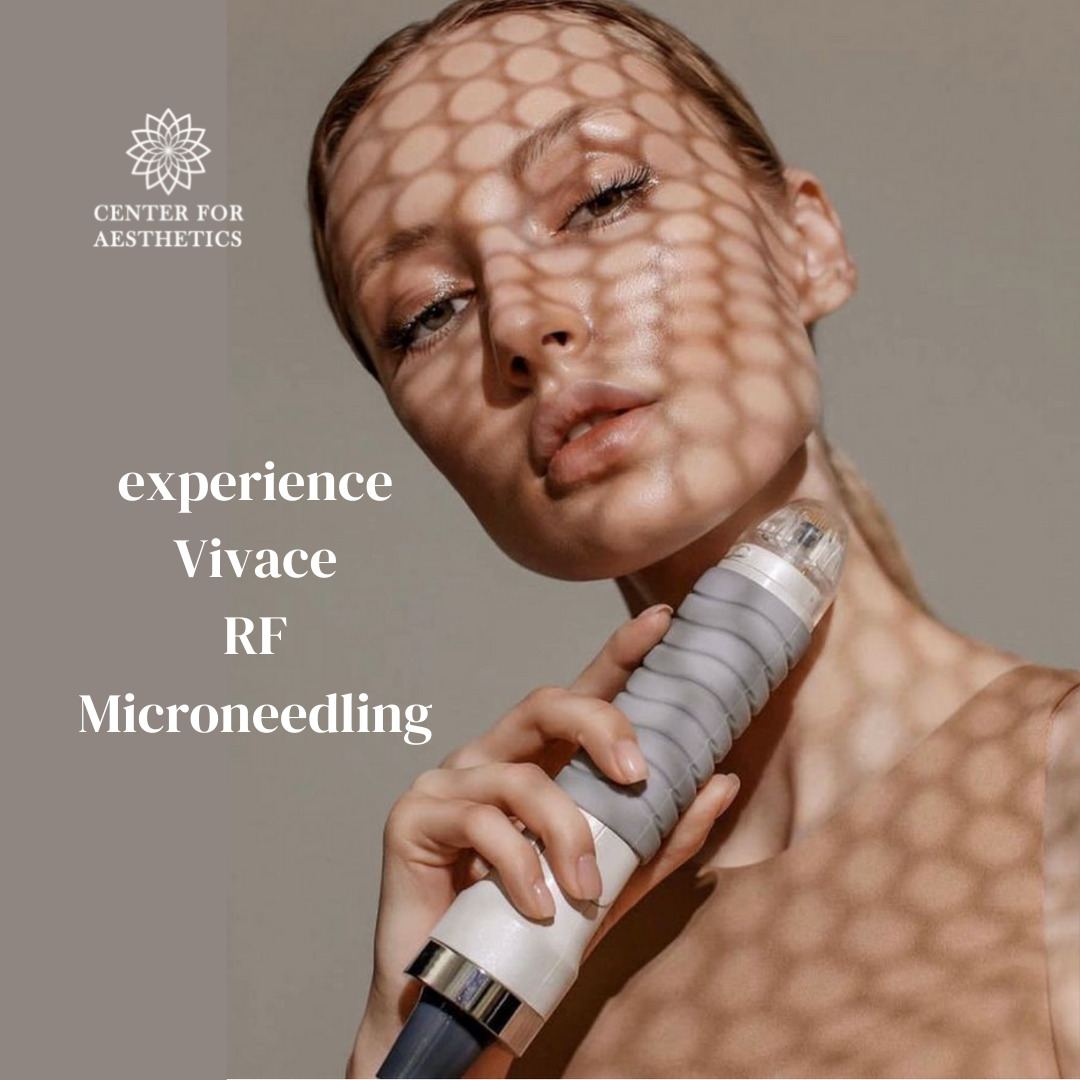 Vivace RF Benefits:
Alleviate Wrinkles & Fine Lines

Tighten Skin

Minimize Pore Size

Improve Skin Tone & Texture

Immediate Results

Minimal Downtime

Virtually Pain-Free
How Does Vivace RF Microneedling Work?
Vivace radiofrequency microneedling, or vivace RF for short, is a non-surgical treatment used to improve skin laxity and reduce wrinkles. This exceptional technique combines precision radiofrequency energy, LED light therapy, and insulated gold-tipped needles along with a specialized serum and cooling peptide mask. 
This treatment works by delivering heat energy into the deeper layers of the skin via a series of tiny needles. These microscopic wounds stimulate the body's natural healing response and promote collagen production, resulting in improved skin tone and texture with added benefits of skin tightening.
For those looking to reduce signs of aging or improve their skin's tone and texture without surgery or other invasive treatments, vivace RF can be a great option. It can also be used successfully to treat acne scarring, sun damage, melasma, wrinkles around the eyes, and other signs of aging. It is a safe and effective treatment that has no downtime and minimal discomfort.
Whereas other aesthetic treatments have issues working with darker skin tones and sensitive skin, Vivace microneedling is gentle and safe for all skin types.
How Many Vivace Treatments Are Needed?
Typically, three to four spaced-out treatments are needed depending on the individual's skin condition and desired results, but only one session may be necessary for milder cases.
In general, after each Vivace RF treatment, you can expect to see improvement in skin tone, texture, and tightness, as well as a reduction of wrinkles and fine lines. Within two weeks of your final treatment session, you should have a noticeable improvement in the appearance of your skin.
What to Expect with Your Vivace Microneedling Treatment
The procedure begins with a numbing cream being applied to the area of treatment in order to minimize any discomfort or pain. The Vivace device is then passed over the skin in small, circular motions, which delivers gentle radiofrequency energy along with tiny needles that penetrate into the upper layers of the skin, creating microscopic wounds. These micro-injuries trigger the body's natural healing response, which works to repair and rebuild collagen for enhanced skin tone and texture.
After the treatment, patients can expect their skin to feel tighter as well as have a smoother texture. There may be some redness and swelling immediately following the procedure; however, this should subside within 24 hours. Some patients may experience mild flaking 2-3 days after treatment, this too should go away quickly with proper skincare. It is important to use sunscreen daily and avoid direct sun exposure in order to protect treated areas from further damage due to UV radiation.
The vivace RF treatment is safe and usually well-tolerated with minimal discomfort. There is also no downtime after the procedure, so you can resume normal activities right away. 
Once the skin has healed, you should see visible results such as improved elasticity and tighter skin within one to two months after your treatment. To maintain these results and achieve optimal outcomes, multiple treatments may be needed over time. If you have any questions or concerns about vivace RF, it's best to consult with a qualified healthcare professional for more information.
Proprietary Combination of Non-surgical Cosmetic Treatments
Vivace does for your skin surface what Ultherapy does for the face's scaffolding layers. Dr. Durboraw often combines these two technologies to treat "from skin to scaffolding" all at the same time in an elegant, no-downtime office treatment called The CFA Trifecta. Vivace, PRP, and Ultherapy—to achieve a level of skin rejuvenation, skin tightening, and lifting you wouldn't think possible.
In conclusion, Vivace radiofrequency microneedling is a safe and effective skin rejuvenation treatment that can help to reduce signs of aging, improve skin laxity, and enhance overall skin tone and texture. Results are long-lasting and typically start to appear after the first or second treatment and continue to improve as additional treatments are administered. Patients should expect some redness and swelling immediately post-treatment; however, this should subside by the next day. Additionally, proper sun protection is essential in order to maintain results achieved through Vivace RF microneedling. 
With minimal downtime and a low risk of side effects, it's no wonder that this treatment has become increasingly popular among those seeking a non-invasive way to keep their skin looking youthful.
If you're considering Vivace RF for your skincare needs, call our Idaho Falls Clinic to schedule a consultation with our qualified healthcare professionals for more information about what to expect from a CFA-tailored treatment plan best suited for you.